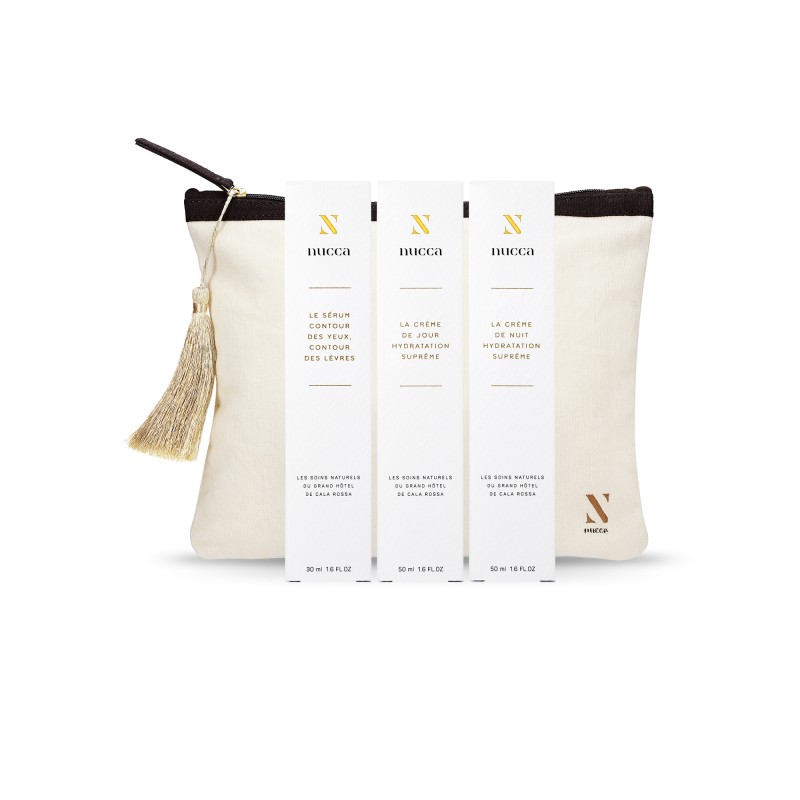  
Hydrating Trio
1 Supreme Moisture Day Cream
1 Supreme Moisture Night Cream
1 Eye Area and Lip Serum
An essential, triple-action treatment. A truly soothing skincare trio for the face, lips and eye area. Enhance your features for a more youthful appearance—and a boost in confidence.
Supreme Moisture Day Cream (50 mL)
An outstanding cream for repairing and perfecting with an appealing bouquet of ingredients!
Supreme Moisture Night Cream (50 mL)
Ideal for night-time beauty use. For the active ingredients in this cream contribute to maintaining natural hydration
Eye Area and Lip Serum (30 mL)
An active partner for youthful skin! It focuses on the face's most sensitive areas.
Jasmine
Anti-inflammatory, soothes, regenerates, fights wrinkles.
Rosewood
Known for its powerful regenerative and rejuvenating properties, actively promotes healing, fights wrinkles and the signs of ageing.
Mysore sandalwood
Regenerates the skin, revitalises the cells, helps maintain moisture and elasticity, treats skin conditions (eczema, chapped and cracked skin).
Witch Hazel
Soothes, stimulates microcirculation and firms the skin.
Olive squalane
Restores the lipid barrier, protects the skin against dehydration
Jojoba
A wax with remarkable similarity to the skin's natural oil, protects against dehydration, fights skin-ageing, maintains suppleness and elasticity, helps smooth and firm tissue.
Cornflower
Decongests, calms irritated and swollen eyes and eyelids, soothes, regenerates, restores radiance to dull and damaged skin.
Borage
Its balanced concentration of omega-6 provides regenerative and restorative properties, ideal to prolong and maintain youthful-looking skin, restores elasticity and tones the skin, treats dry, dull, devitalised, mature, wrinkled skin, relieves atopic dermatitis.
Apricot
Excellent source of vitamins A, E and omega-6, invigorates and restores radiance to dull and devitalised skin, hydrates, regenerates.
3 other products in the same category:
trio
Circulation Trio
1 Toning Leg Oil
1 Refreshing Leg Gel
1 Healthy-Circulation Natural...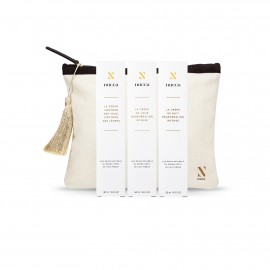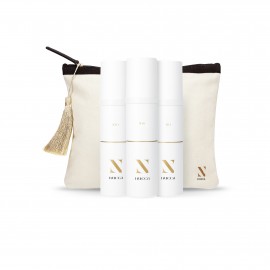 trio
Regenerative Trio
1 Intense Regeneration Day Cream
1 Intense Regeneration Night Cream
1 Eye Area...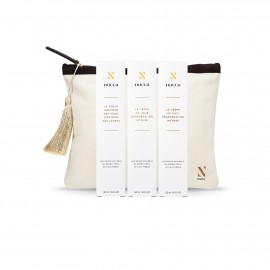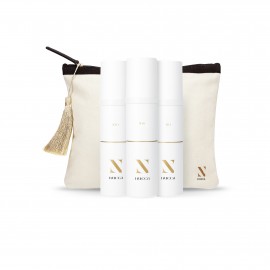 gamme
Party Trio
1 Exfoliating Face Cream
1 Nucca II Detoxifying Mask
1 Boosting Serum
...