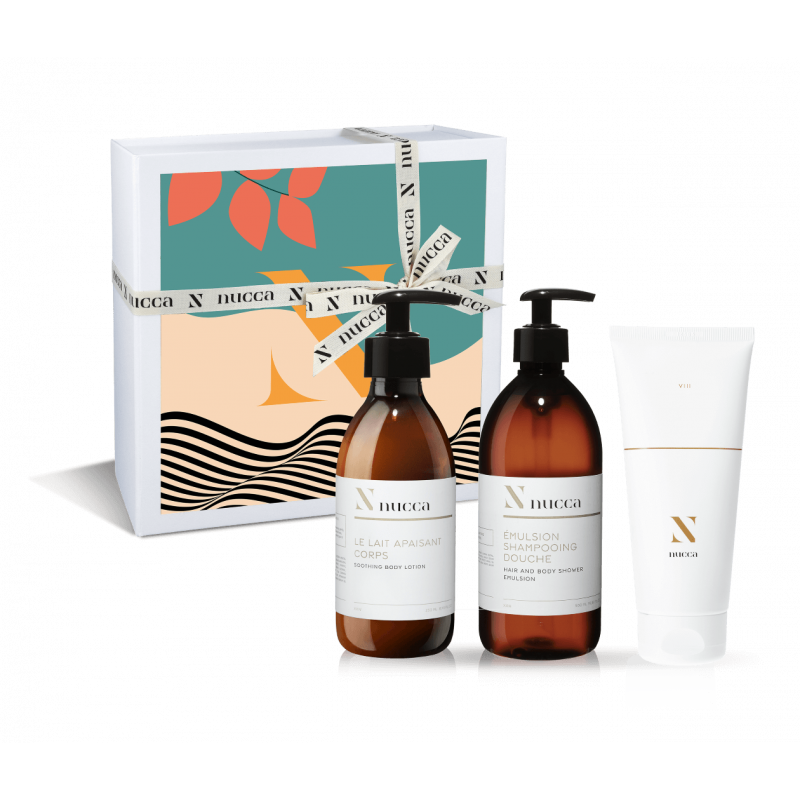  
The Well-being box
THE WELL-BEING BOX: Take a break and pamper yourself with the finest active ingredients. A combination of three exceptional products for total, long-lasting well-being: Shampoo & Shower Emulsion, Body Scrub Cream and Soothing Body Milk.
SHAMPOO & SHOWER EMULSION, Lavender, Apricot, Chicory, Anise, Xanthan gum. Combines action and sensuality. A "two-in-one" treatment that moisturizes and deeply cleanses. You will love its volumizer side effect  on your hair. Designed to protect the skin's PH, our easy to live favorite can be used on a daily basis.
EXFOLIATING BODY CREAM: Aloe Vera, Apricot, Saponaria, Rosemary. Smooth, soft skin and much more! Exfoliate first on dry skin then emulsify with a little water. The soapwort it contains is your gentle cleanser. A Corsica scented all natural "two-in-one" that also protects the skin's PH. Leaves skin supple and velvety soft.
SOOTHING BODY LOTION, Aloe Vera, Lime blossom, Olive, Lavender, Shea butter. A veil of softness, a nourishing, anti-oxidant treatment that promotes cell regeneration. Its ingredients include Aloe vera, which soothes sensitive skin.
Apply morning and evening, smoothing lightly over the entire body. It absorbs quickly and improves the moisturization, a favorite winter remedy.
Box 157€ (instead of 179€)
Shampoo & Shower Emulsion 500 ml 
Exfoliating Body cream 200 ml 
Soothing Body Lotion 200 ml
You might also like
body
Soothing body lotion
Aloe vera, linden blossom*, olive, lavender, shea butter
All-enveloping softness…....
3 other products in the same category:
x-mas-boxes
The Cocooning box
THE COCOONING BOX is designed for moments of escape and comfort. Our FIG...
x-mas-boxes
The Essential box
THE ESSENTIAL BOX is the perfect combo for your facial routine, with...