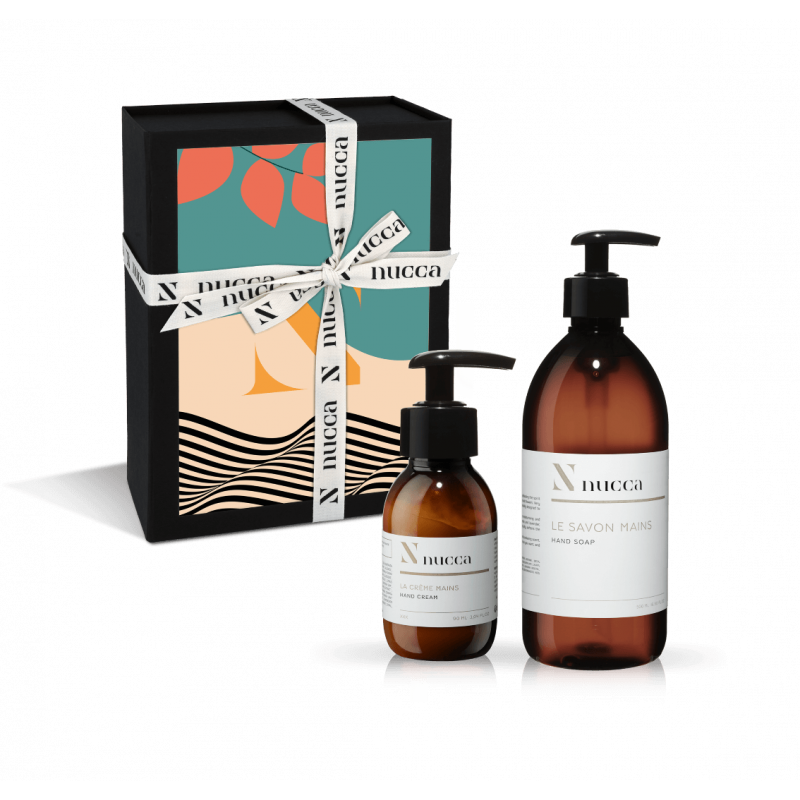  
The box Beautiful Hands
The box BEAUTIFUL HANDS combines the softness of soap with a hand cream for daily moisturizing and protection. A complementary duo for optimum comfort that helps with cracked skin and aging.
THE HAND SOAP takes care of your hardest working body part. Its  endemic plants and wildflowers recount the spirit of the Corsican maquis. Extremely mild and subtly scented, this creamy gel has been specially formulated for fragile hands. Its sophisticated composition combines the moisturizing and healing properties of Aloe Vera with Sweet Almond oil, which softens the epidermis and promotes cell regeneration. Add water and  the soap transforms into a light, comforting foam. A hand beauty ritual that can be repeated over and over, leaving a delicate fragrance on the skin's surface.
THE HAND CREAM is A combination of 7 carefully selected ingredients: Shea butter, Benzoin, Beeswax, Lime, Wheat Germ oil, Calendula and Grapefruit. Each one with its own effectiveness. Highly moisturizing, it penetrates skin instantly and is anti-bacterial. A highly effective daily ally for protection against external aggression. Apply every morning, and repeat several times a day if necessary.
BOX 73€ (instead of 84€)
Hand Soap 500ml
Hand Cream 90ml
coffret-noel-belles-mains
You might also like
body
Hand cream
Shea butter, benzoin, beeswax, sweet lime, wheat germ oil, calendula*, grapefruit*.
...
gamme
Hand Soap
A restorative soap that takes us on an olfactory journey reflecting the spirit of the...
3 other products in the same category:
x-mas-boxes
The Essential box
THE ESSENTIAL BOX is the perfect combo for your facial routine, with...
x-mas-boxes
The Well-being box
THE WELL-BEING BOX: Take a break and pamper yourself with the finest...
x-mas-boxes
The Cocooning box
THE COCOONING BOX is designed for moments of escape and comfort. Our FIG...